WooCommerce Marketplace WordPress Theme – eLab
It's important for any eCommerce website to look professional and beautiful, but in the Multi Vendor Marketplace, it's critical… Regardless of if you're creating a traditional 
WooCommerce WordPress site
, or If you're creating a 
multi vendor marketplace
 with plugins like 
Dokan or WC Vendors
, if your website isn't up to scratch, you're not going to get sales. The higher than average price points most electronics are sold at (compared to other sectors), combined with other risk factors (like counterfeiting) make it a dog eat dog sector where only the very best sites survive.
At the very minimum you're going to need a site that's:

Beautiful:
 First impressions matter, if a customer can't trust you, they're going to hit the back button and find the next store.
Lightning Fast:
 Slow websites reduce conversion rates, lower trust, and are generally bad for business.
Secure:
 With the constant threat of data breaches and hacking your site needs to look well designed, and most importantly, well-protected.
Responsive:
 With more than half the web's traffic coming from mobile devices these days, your site needs to look picture perfect on all screen sizes, from the smallest iPhone to the largest retina display.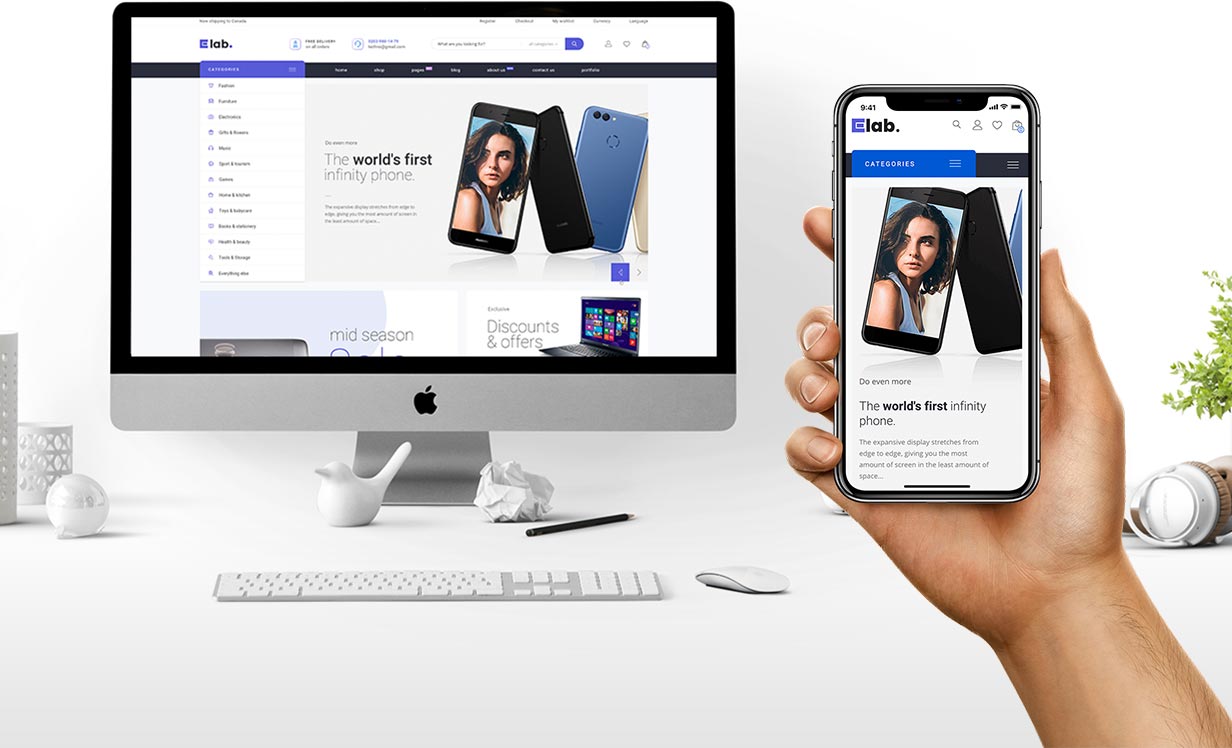 And, much, much more… The list goes on and on, but there's a huge amount of work that needs to be done before you even think about getting your first visitors through your virtual doors.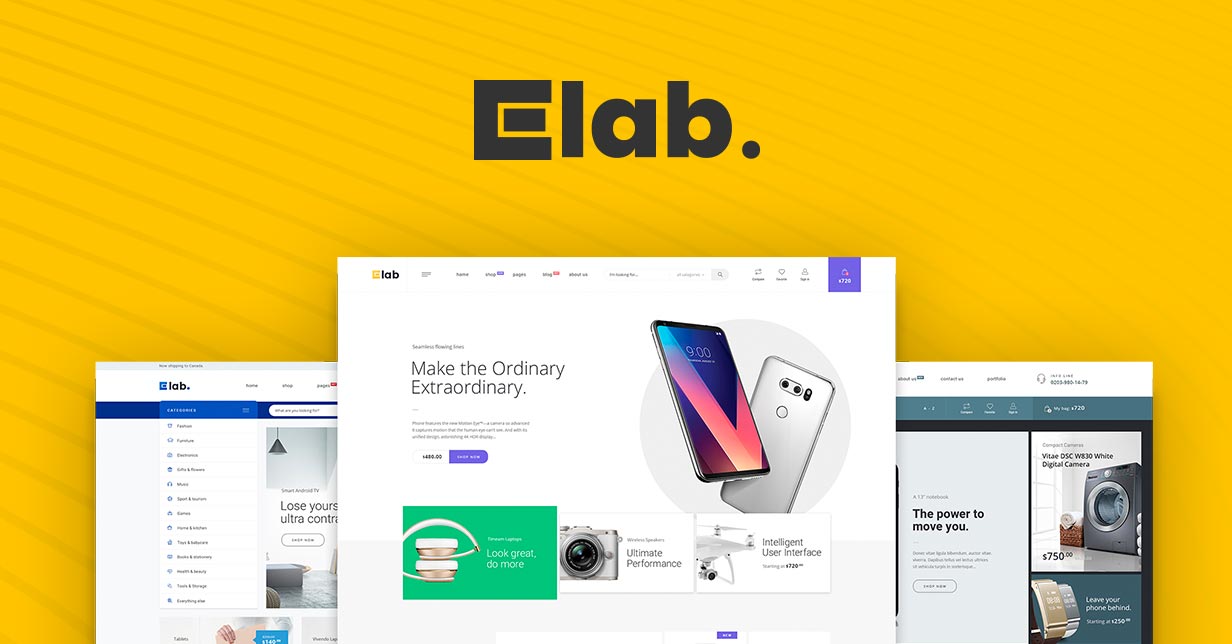 Luckily, we've done most of the hard work, so you don't have to. We've custom-built 
eLab
 to be one of 
the most advanced, user-friendly, multi vendor store theme
 on the market. It's a great theme for any industry, but we've specifically designed it with the needs of the electronics sector in mind.
X Builder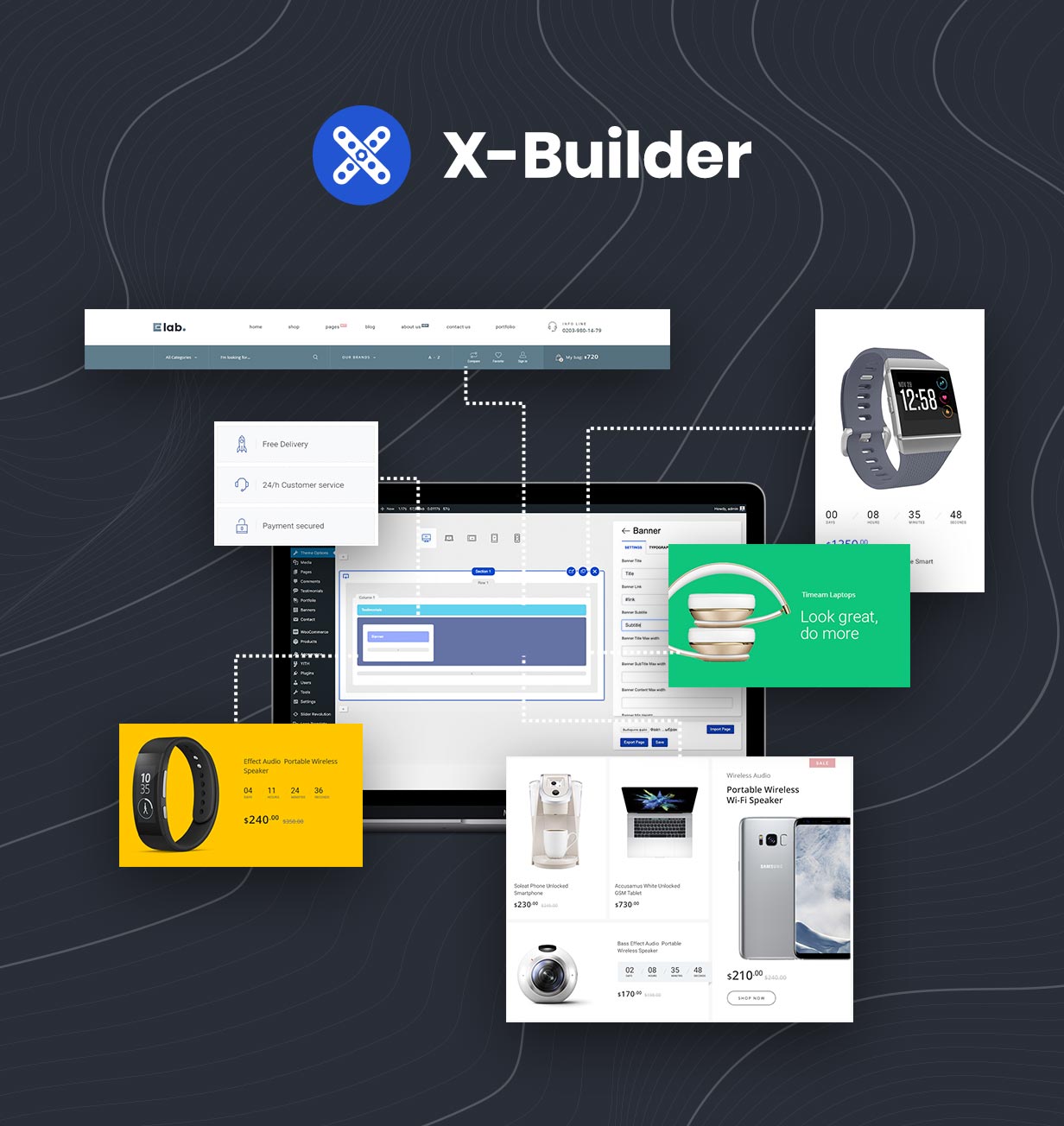 We've tried countless other drag and drop page builders over the years, and whenever we encountered one in the past we were instantly filled with a strange feeling of dread and anxiety. Simply put, that's because the vast majority of them are terrible. They never work as they should, they're usually slow, they're resource-intensive, and nine times out of ten you'll need to read pages and pages of documentation before you understand how to do anything. And when you finally think you've got things right, you click preview, and it looks nothing like you expected it to from the backend… But it doesn't have to be this way. We have custom-built our drag and drop page builder (X Builder) from the ground up to fix all the frustrating issues most other page builders suffer from, to provide you with an elegant, efficient, and easy to use tool that'll let you create stunning websites without needing to type a single line of code. It's as easy as 1-2-3.

Step 1 – Select a component
We have an unlimited amount of design potential with our base components, from images to text blocks, to contact forms and more – we've got you covered.
Step2 – Drag it onto the page
Our advanced system understands what you're trying to do, and it'll allow you to easily position the component wherever you want it to go (without breaking the layout of everything else in the process).
Step 3 – Customize the component
Most of our components are ready to go from the moment you drag them into position, but customization is king, and you can edit them (without code) to make them look and act exactly how you want them to. We know that these 3 steps are nothing revolutionary on paper, all other page builders make the same claims. But once you try X Builder, you're going to immediately see why we're making such a fuss about it. And you're never going to look back…
1 Click Demo Site Importing

Even with the efficiency and speed of our X Builder system, building a website from scratch is still going to take a long time. There are all kinds of basic functionality that you'll need to implement, and while it's not a difficult task with X Builder, it's still time that could be better spent on other more important things. That's why we've built several stunning demo sites that you can use as a template to get your eCommerce site up and running in a matter of minutes. Here's how it works:
Find the demo site you want to use as a template
Click import demo site
Done, your website is now the demo site
(We told you it was easy) At this point, you can make as many modifications as you like to customize the demo site to fit your brand, or you can use it straight out of the box with only a few minor changes (because they're already beautiful). The choice is yours

Conversion Optimized Product Page Layouts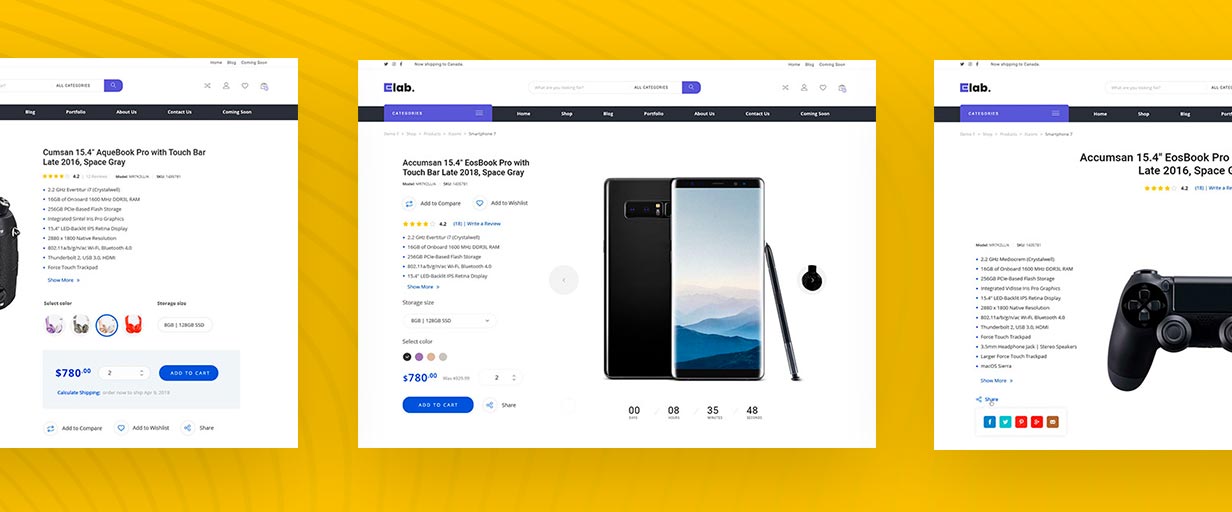 The product page is the beating heart of any eCommerce website. It's where you get the chance to show your visitors what they're buying (and why they should buy it). Needless to say, if your product pages aren't performing, then you're leaving money on the table. We've used some of the world's most talented UI and UX designers to create several different product page layouts that are optimized for the electronics industry. They're all pixel perfect templates that are designed to squeeze every possible conversion out of your visitors. You can mix and match our product page layouts as you wish.
Think about:
Using large image-heavy layouts for beautiful products that are going to capture the imagination of your visitors.
Using smaller image layouts for less visually attractive products (where the product specifications do the talking).
Using the same layout on every page to give a feeling of continuity.
Switching between layouts is literally a 2 click process, so have fun with it, play around a little, and see what feels right for your site.
Product Bundles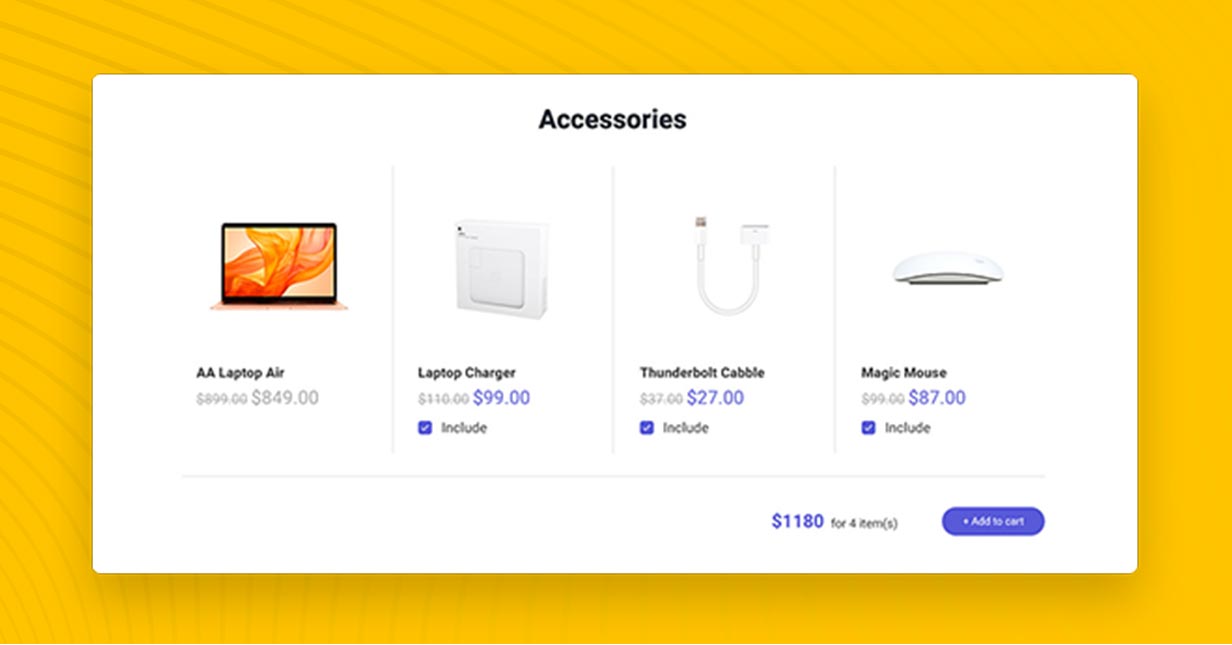 Amazon is the king of eCommerce, and while there are many factors that have contributed to their success, one of the main things they do better than anyone else is related products. They're great selling opportunities because… When someone's looking at an iPhone, they're probably going to want a case for it. When someone's looking at DSLR camera, they're probably going to want a lens or two. By putting related products like this in front of your customers, you're drastically increasing your upsell potential. You'll have the chance to convert a single item order into a larger basket full of items your customer might not have thought about until you suggested it to them. There's really no way to understate the amount of additional revenue suggesting related products can bring in (providing you do it properly). That's why we've spent a huge amount of time developing our product bundle system. It allows you to group together items related to a product and show them to your users. But there's nothing special about that, related product plugins are as old as WordPress itself. What makes our system special is how easy it is for your customers to add the products to their cart. With a single click of a checkbox, they can add related products to their basket without having to leave the page they are already on. What makes it even better is that you can specify discounts for related products when they are purchased as part of a bundle – further increasing buying pressure on your visitors (without it feeling pushy or forced). Your customers get a great deal, you get more sales, and everyone wins. What more could you want?
WooCommerce Compatible

Every theme out there claims to be Woo Commerce compatible, and you'd be forgiven for thinking that they're all the same in terms of how friendly they work with Woo Commerce – but they're not. We've built this theme from the ground up with Woo Commerce in mind. It's been considered in every single line of code, and we've gone above and beyond the call of duty to make this one of the most efficient, robust, reliable, and bug-free Woo Commerce themes on the market.
Automatic Updates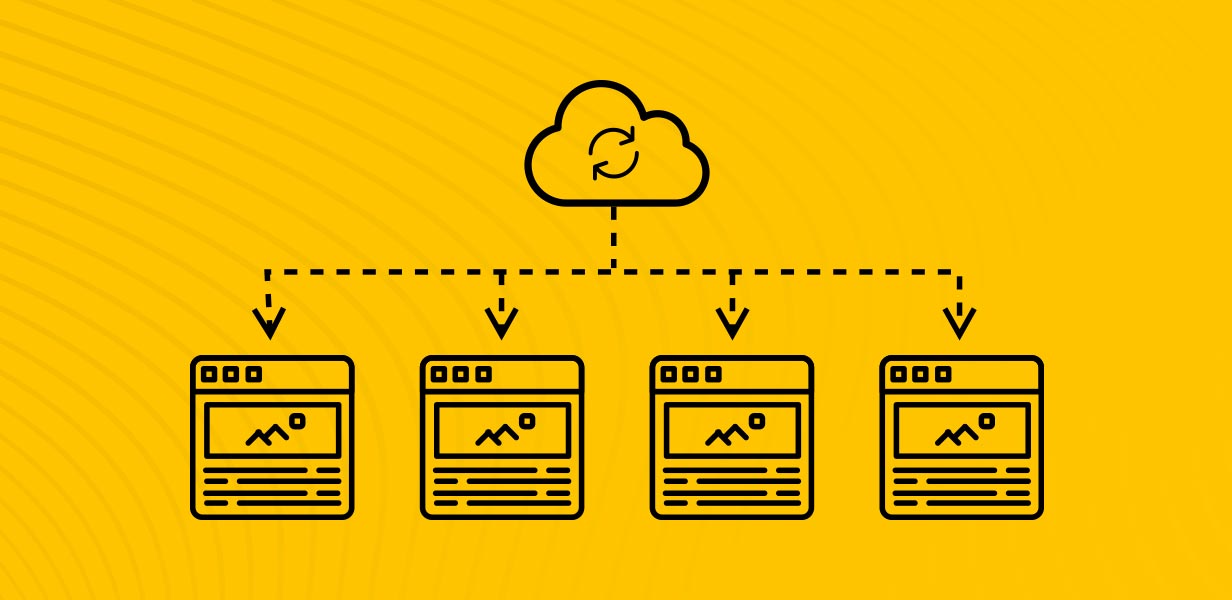 A theme is only as good as the team that develops it. In the rapidly changing world of WordPress websites, updates are coming out for various themes and plugins on a daily basis. If you're working with a theme that's not properly maintained, sooner or later you're going to come across a site breaking update that your theme isn't compatible with. You then either have 2 choices:
Run an older version of Woo Commerce or WordPress – which is a terrible idea for an eCommerce site that handles personal data due to security issues.
Get a new theme – obviously not a great idea, as you're essentially recreating your website from scratch.
Needless to say, It's always better to go with a team that's going to be there for you from the very beginning. That's where we come in. Our dedicated team will have updates for this theme ready to go from day one of a WooCommerce or WordPress update. You'll be able to update your installation and Woo Commerce plugins with confidence knowing that we've already tested and checked everything is working with your theme as it should. The cherry on top for all of this is that we've enabled automatic updates, so you don't even have to remember to update it yourself. Type your license key in your dashboard, turn on auto-update, and that's it, you're done. Operating a secure WordPress eCommerce site has never been easier.
Dokan & WC Vendors Compatibility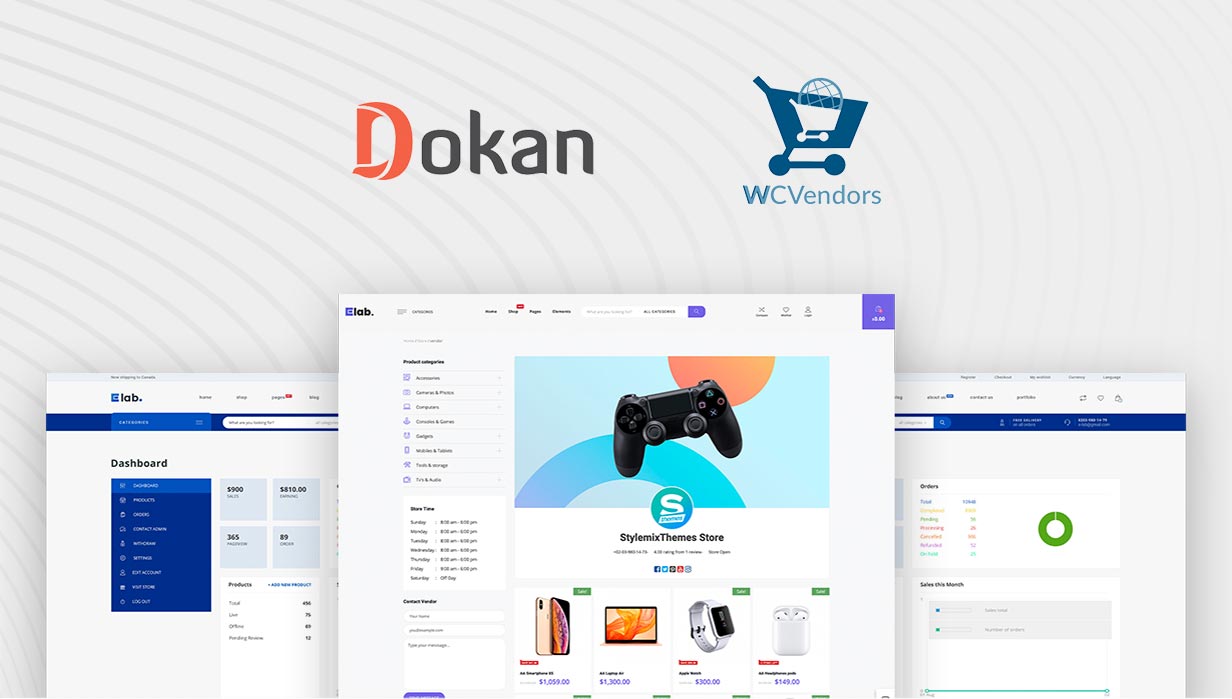 Looking to create the next big marketplace? Then we've got you covered. We've worked tirelessly to ensure complete compatibility with two of the most popular marketplace plugins, Dokan & WC Vendor. There's a minimal amount of setup required, and with a few simple clicks, you'll have your fully-featured marketplace up and running and ready to rock.
WPML Compatibility

The world becomes smaller and smaller with each passing day, and for any eCommerce site to thrive, thinking internationally is key. There's a whole world of potential customers at your fingertips, but the only problem is – your site doesn't speak their language. WPML is undeniably the king when it comes to mastering multilingual WordPress sites, but it has several strict requirements that themes need to consider for a seamless integration that works (without site breaking bugs causing problems). We've thought about WPML every step of the way during our development process, and you'll be able to serve customers globally with a minimal amount of effort.
Complete Documentation / Video Tutorials

While everything we've done with this theme has been designed to be as intuitive and user-friendly as possible, we still provide you with complete documentation for everything and anything our theme provides. From the smallest drag and drop tasks to the most detailed and intricate customizations – we've got documentation to guide you every step of the way. However, if you're more of a visual learner and prefer to be shown how to do something (instead of just reading about it) then we have loads of high quality, step by step video tutorials for many common tasks that you'll be performing with eLab too.
Customer Support
If something in the documentation doesn't make sense to you, or you're stuck with a certain task, then we've got your back. Our 24/7 ticketing system will allow you to get in direct contact with the developers of eLab who will help you with your request however they can.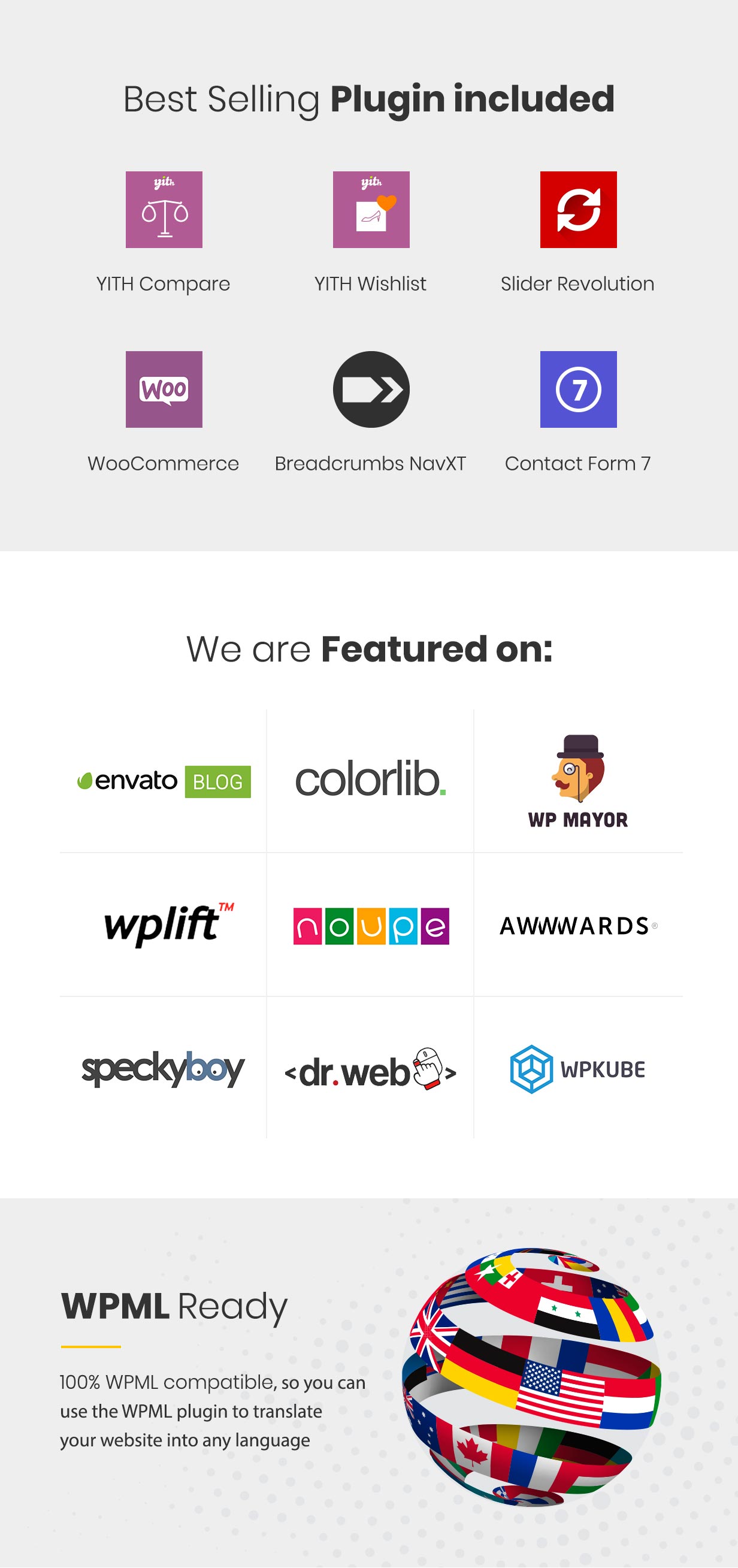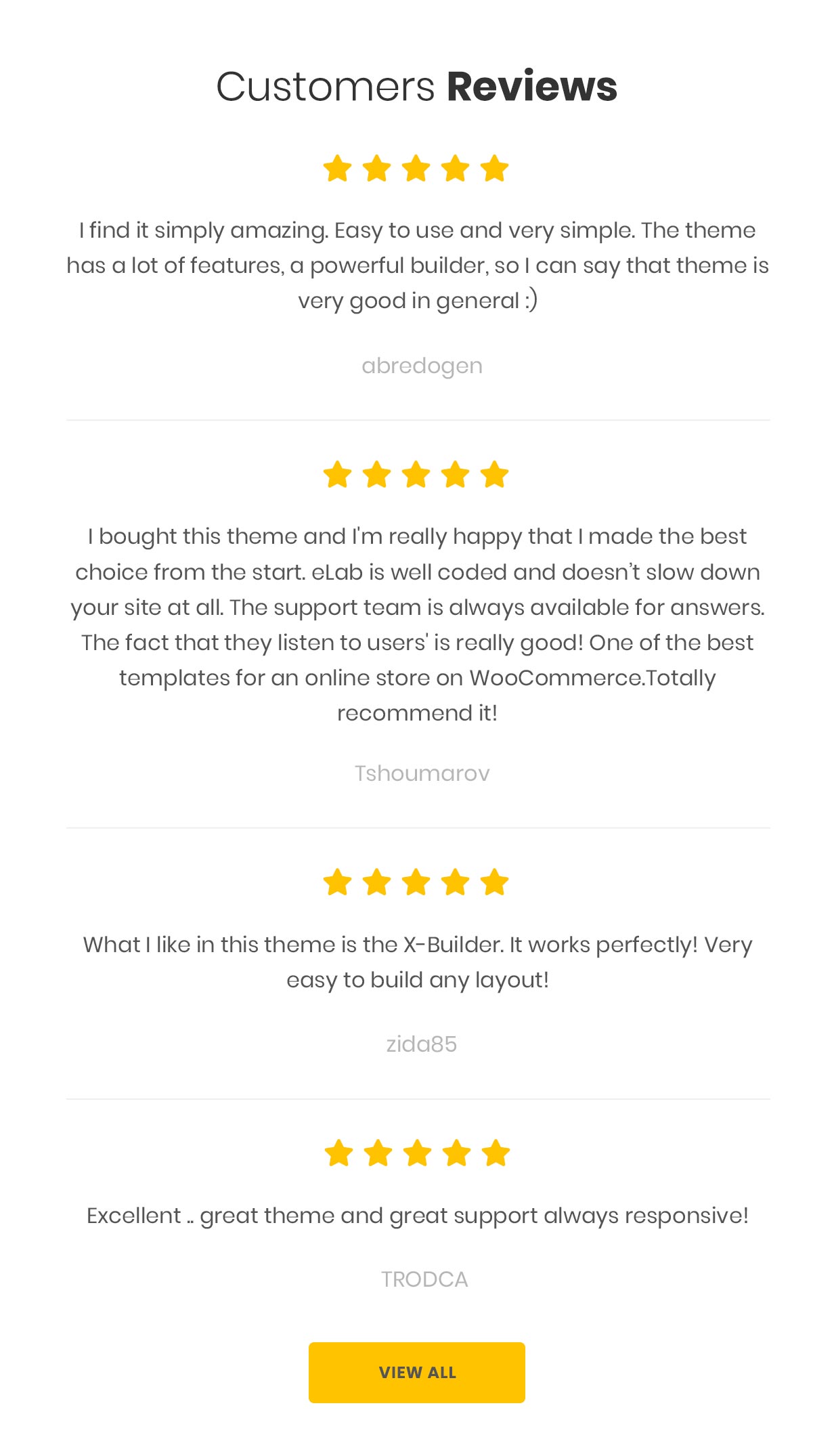 And Much, Much More…

We've only just started to scratch the surface of the power of eLab so far. There's so much functionality that we've put into this theme that we could write thousands of more words on its features. But we've got to stop at some point, right? This is honestly one of the most advanced, user-friendly, and high-quality eCommerce themes on the market. You'll be able to produce professional-grade websites without writing a single line of code. We can talk the talk, but we can walk the walk? Check us out and see for yourself. You'll never go back to another drag and drop theme ever again. Guaranteed.

Powerful X-Builder Elements
Theme Widgets
Advanced Live Search
Advanced Vertical Menu
Mega Menu Drop Down
eLab – Multi Vendor eCommerce Store Theme Features
8 Different types of Homepages
4 Layouts for Product Page
3 Modern Blog Layouts
Grid and List views for shop page
Drag-n-Drop Page Builder: X-Builder
Easy Customize – Admin Options Customized Panel
Product Variations
Dropdown Shopping Cart
Secondary Product Image
Responsive Design
Built-in Responsive Horizontal MegaMenu
Cross-browser compatible (Chrome/Firefox/IE)
Clean and well-organized codebase
Wishlist & Compare supported
Custom Typography options
All Google fonts included
Brands for products
Filter by brand
Advanced Promo popup options
Share buttons for product page
My account page tabs
24/7 Professional Support
Lifetime auto-updates
Online Documentation
Video tutorials
eLab – Multi Vendor WooCommerce Marketplace Theme Features
4 Different layouts for Single Product Pages.
Advanced Specifications tab
Catalog Mode available
Wishlist and Compare from YITH
Advanced Products Live Search
Brands Carousel
Products Carousel
Product sorting and filtering
Coupons
One-Click Refunds
Order Management
Import and Export Products
Free Shipping
Shipping Rates
Affiliate Products
Unlimited Products
Unlimited Variations
Unlimited Images and Galleries
Related Products
Featured Products
Product Ratings and Reviews
Custom Product Comparison page.
It features deep integration with WooCommerce core plus several of the most popular extensions:
Slider Revolution
YITH WooCommerce Wishlist
YITH WooCompare
YITH WooCommerce Ajax Search
YITH WooCommerce Badge Management
Powerful Speed Optimization Tool
Woo Login Redirect
Link download eLab – WooCommerce Marketplace WordPress Theme
File này được tải trực tiếp từ themeforest.net nên các bạn không sợ có virus nhé.
Tên file: themeforest-Xp2gbugd-elab-electronics-shop-wordpress-theme.zip.zip
Loại file: Không Nulled.
Dung lượng: 20 MB.
Mật khẩu giải nén: linhproductions.com
Đây là file được tải trực tiếp từ codecanyon.net về nên các bạn yên tâm sử dụng.
LINK LICENSE
Xem ngay
LINK DOWNLOAD
Bạn vui lòng nhấn
GetLink VIP
 để nhận đường dẫn tải sản phẩm nhé. Cảm ơn bạn.